Category Archives:
Press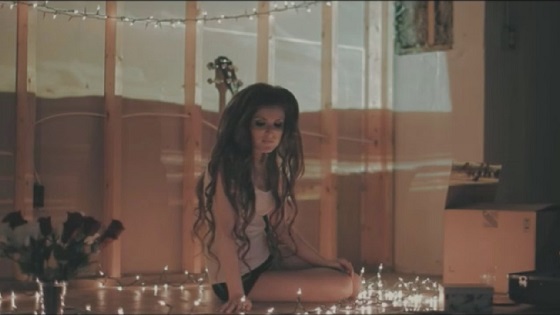 Hey, loves, hope everyone is staying safe and healthy during this difficult time.
Anne recently spoke with two great publications, Metal Pulp and Paper Magazine and Music Madness Magazine, about everything from her musical inspirations of Judas Priest and Iron Maiden to what would make up Upon Wings' "mission statement."
Read the full story with Metal Pulp and Paper here and Music Madness Magazine here!
"We write our own music, and everything really does come from our heart, as cliche as that may sounds," Anne told Music Madness. "I really hope that the music in some way helps people."
Thanks so much to everyone for the amazing birthday wishes. I am so blessed to have you in my life and supporting Upon Wings and our music! Here's the Facebook post with all of your comments- click the comments area for it to expand and show the comments. 🙂
Love,
Anne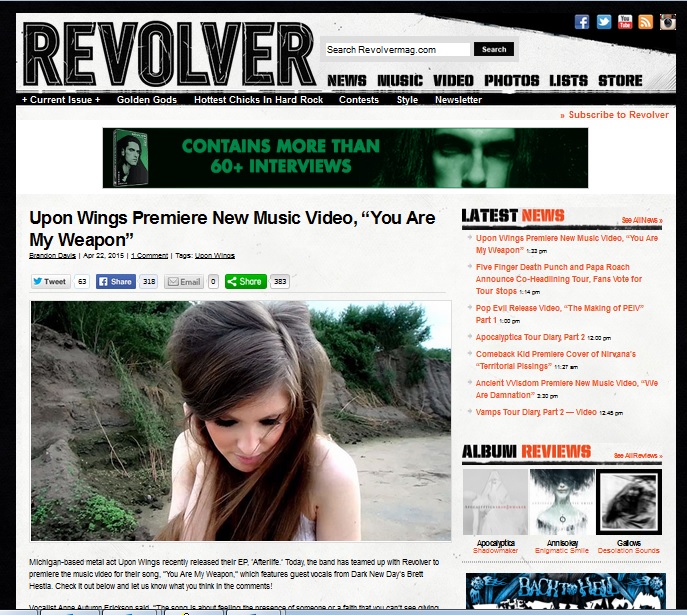 Big thanks to Revolver Magazine for premiering our music video for "You Are My Weapon!" Watch the video via this link.
The song appears on our "Afterlife" EP and features guitars and production by Kevin Jardine and drums by Peter Tzaferis. The EP also features guest vocals and production by Brett Hestla of Dark New Day. Kid Rock recording engineer and Grammy-nominated mixing engineer Glenn Brown mastered the EP, while Corey Lowery of Eye Empire mixed "You Are My Weapon."
Thanks so much for your support, loves!
With love,
~UWings
Upon Wings Premiere New Music Video, "You Are My Weapon" http://t.co/hfynFUAxVh @UponWings pic.twitter.com/O9FpwvyZzZ

— Revolver Magazine (@Revolvermag) April 22, 2015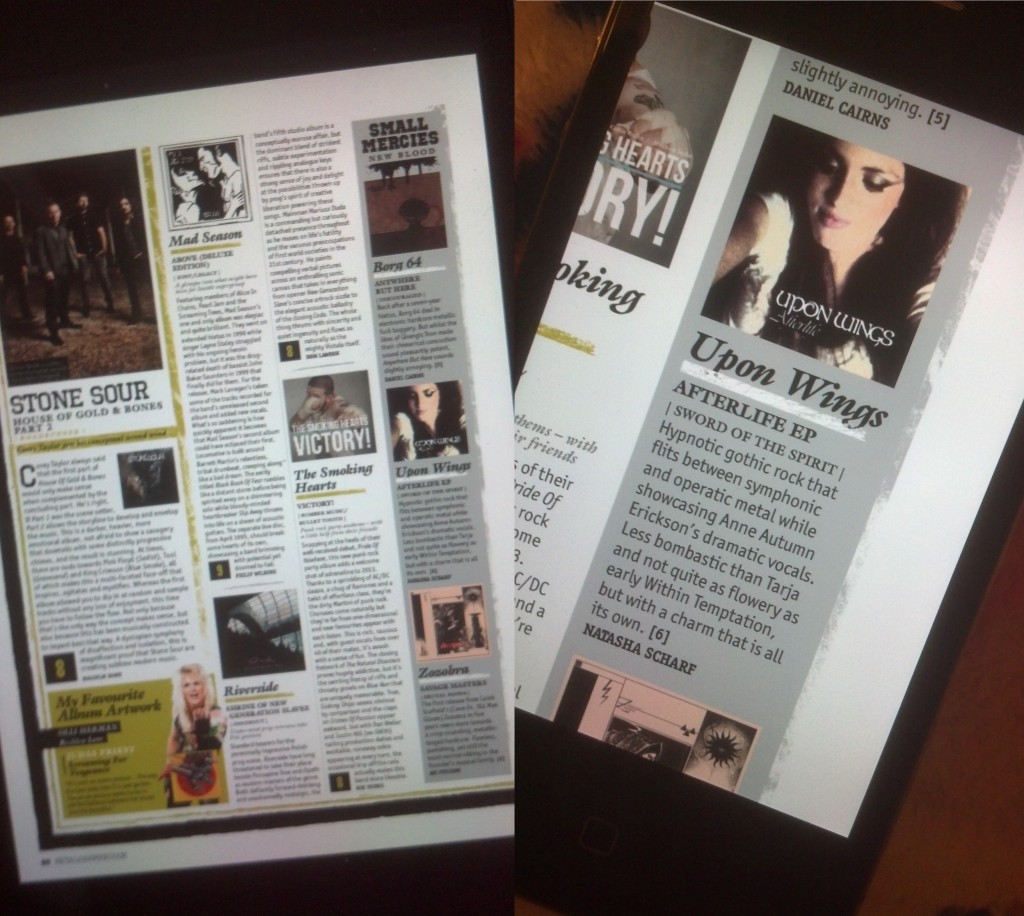 We're so very excited to share the news that the legendary Metal Hammer Magazine has given our "Afterlife" EP a great review in their May 2013 print issue! Big thanks to the publication! Pick up a copy at stores around the globe! Here in the U.S., you can find Metal Hammer at many local stores, including Barnes and Noble!
Here's what Metal Hammer writer Natasha Scharf had to say about Upon Wings:
"Hypnotic gothic rock that flits between symphonic and operatic metal while showcasing Anne Autumn Erickson's dramatic vocals. Less bombastic than Tarja and not quite as flowery as early Within Temptation, but with a charm that is all its own."
Hey, guys! It's been a minute, but we're back with some great news: another good review of "Afterlife!"
Tony Cannella from Femme Metal Webzine gave Upon Wings a shining review of the "Afterlife" EP. Read and excerpt below, and find the full thing via this link! Thanks, Femme Metal Webzine!
Musically there is a lot to like about this band, but it was the enthralling vocals of Anne Autumn Erickson along with the thoughtful, introspective lyrics that drew me in.

Anne Autumn Erickson does have an operatic vocal style but it is not over-the-top. She knows exactly when to rein it in and be a little more subdued. Some singers are so enamored with the fact they have this immense vocal ability that sometimes they go a little overboard. Sometimes less is more, as Anne Erickson demonstrates. The opening song "Afterlife" is a perfect example of this. The vocals are breathtaking and filled with heartfelt passion. The song is also quite melodic and immediately enjoyable.