Tag Archives:
Review
Huge thanks to Metal Hammer magazine for the story and hosting this exclusive stream of our next single, "You Are My Weapon!"
Please head over to their page and take a listen! http://bit.ly/1xqIEJW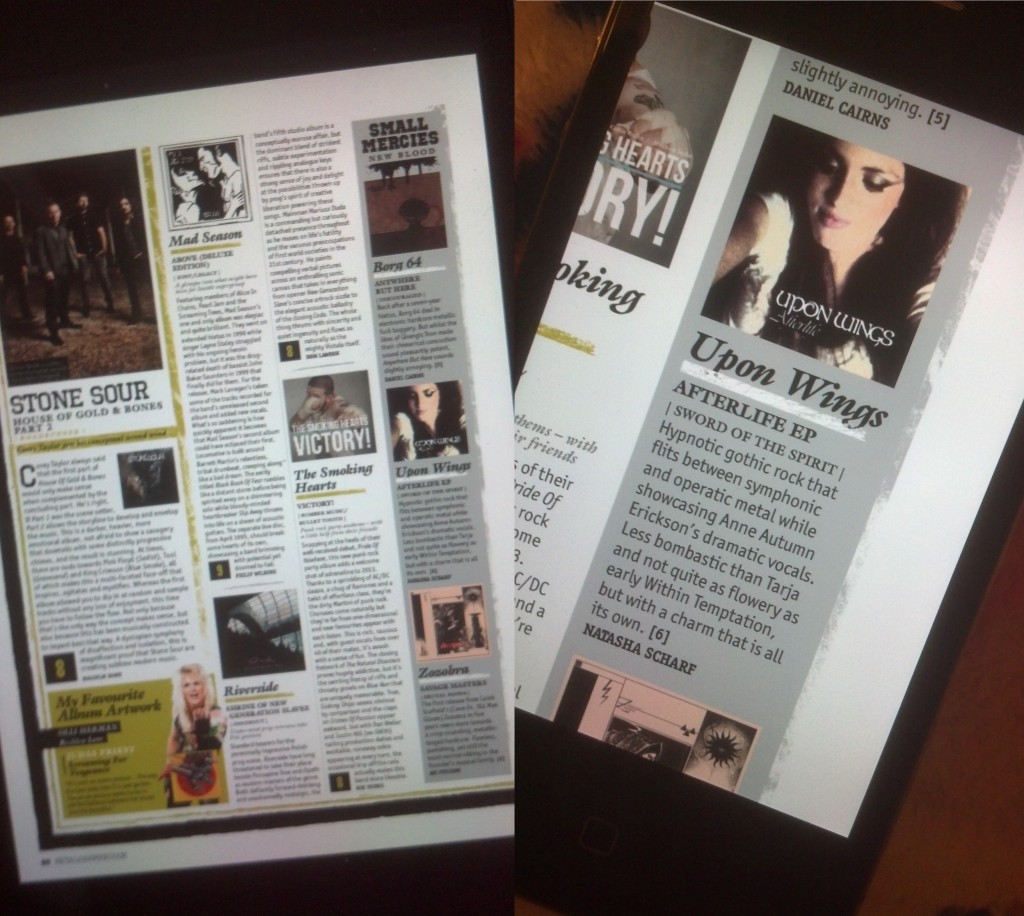 We're so very excited to share the news that the legendary Metal Hammer Magazine has given our "Afterlife" EP a great review in their May 2013 print issue! Big thanks to the publication! Pick up a copy at stores around the globe! Here in the U.S., you can find Metal Hammer at many local stores, including Barnes and Noble!
Here's what Metal Hammer writer Natasha Scharf had to say about Upon Wings:
"Hypnotic gothic rock that flits between symphonic and operatic metal while showcasing Anne Autumn Erickson's dramatic vocals. Less bombastic than Tarja and not quite as flowery as early Within Temptation, but with a charm that is all its own."
Hey, guys! It's been a minute, but we're back with some great news: another good review of "Afterlife!"
Tony Cannella from Femme Metal Webzine gave Upon Wings a shining review of the "Afterlife" EP. Read and excerpt below, and find the full thing via this link! Thanks, Femme Metal Webzine!
Musically there is a lot to like about this band, but it was the enthralling vocals of Anne Autumn Erickson along with the thoughtful, introspective lyrics that drew me in.

Anne Autumn Erickson does have an operatic vocal style but it is not over-the-top. She knows exactly when to rein it in and be a little more subdued. Some singers are so enamored with the fact they have this immense vocal ability that sometimes they go a little overboard. Sometimes less is more, as Anne Erickson demonstrates. The opening song "Afterlife" is a perfect example of this. The vocals are breathtaking and filled with heartfelt passion. The song is also quite melodic and immediately enjoyable.
Big thanks to Jason Thompson of The Vacant for the stellar review of Upon Wings' "Afterlife" EP! Check out a few of his kind words below, and read the full review here.
Lead singer, Anne Autumn Erickson, is the force behind it all, and has a beautiful personality to give the fans with it.  A brilliant combination to bless all of us with, and it is heard with amazing results in this EP, "AFTERLIFE."
As always, thanks for all of your support, guys!
-UWs
Thanks so much to Dave Nicholls of Loud-Stuff.com for the great review of "The Dream!"
Nicholls describes our sound as such: "Growing as the track progresses, the vocals seem to echo around the speakers, forming into a sound which is both haunting and accessible at the same time, almost like a dark but happy dream."
"I didn't know what to expect from Upon Wings when I first looked into things but hearing it, the name represents the music which is on offer. Forming a sound which lifts and carries you to a new place, the soothing elements of this track are the main thing which needs to be focused on, somehow using a vocal line to do all of the work needed and resulting in a track which has left me happy, content, and wanting more."
Read the whole review here, and find Loud-Stuff.com on Facebook here!
Sweet dreams,
~AE, Upon Wings