Share the post "Anne Interviewed on 'That Metal Interview with James!'"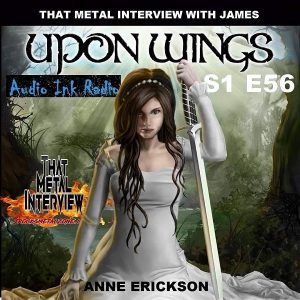 Huge thanks to "That Metal Interview with James" for having Anne Autumn as a recent guest on the show!
James and Anne talked about Upon Wings' history, the status of the long-awaited new EP and Anne's podcast, Audio Ink Radio.
James was kind enough to say that Anne as a "bad-ass and beautiful voice." Thank you!
When asked about how Anne got into rock and metal music, she said, "It's funny, because I grew up singing opera and musical theater and I never even heard anything in rock. My parents never really played rock music. We just listened to musical theater and opera and stuff like that, and I really liked it. Then, finally in high school, the radio was on with my boyfriend at the time, and I was like, what is this? I had never heard anything like it. I had never heard a rock song. He was like, this is a rock song! I loved it."
She added, "From there, I started out really liking, and I still do, post-grunge. That's the first stuff I ever heard. Then, I got into everything else– grunge and then '80s metal and all that stuff, so that's how it happened."
It might be unexpected, but Anne explained that one of her first CDs was Puddle of Mudd debut "Come Clean."
"'Come Clean' was the first record I ever asked for," she said. "It was for Christmas. I said, 'I really want this record, mom and dad!' I love that record."
When asked about how Anne got into the bass guitar, she explained that after picking it up, she just "really liked it. I play with my fingers. I don't play with a pick. It felt more comfortable, and I just really liked it. Flea is one of my favorite bassists. Victor Wooten. I like Blasko from Ozzy, too."
Check out the full chat on JRocksMetalZone.com here and below!
Comments