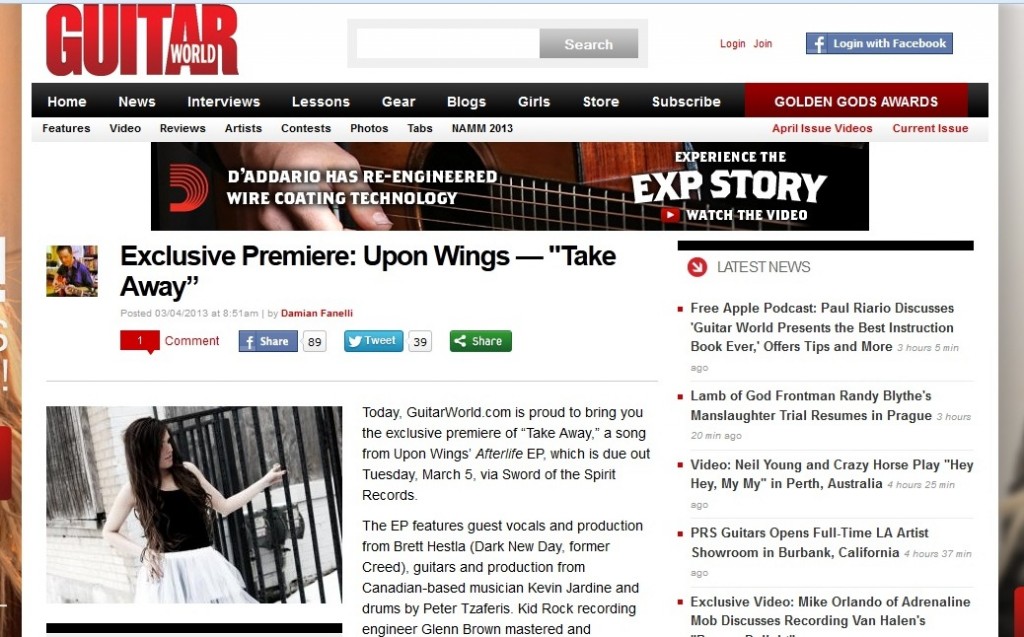 Big thanks to Guitar World Magazine for hosting the exclusive premiere of a new song off our "Afterlife" EP called "Take Away!" The song is the third track on our album, and Anne explains more about the song in the Guitar World post.
You can check out the premiere and story here.
Upon Wings' "Afterlife" EP drops this Tuesday and is currently available for pre-order via iTunes.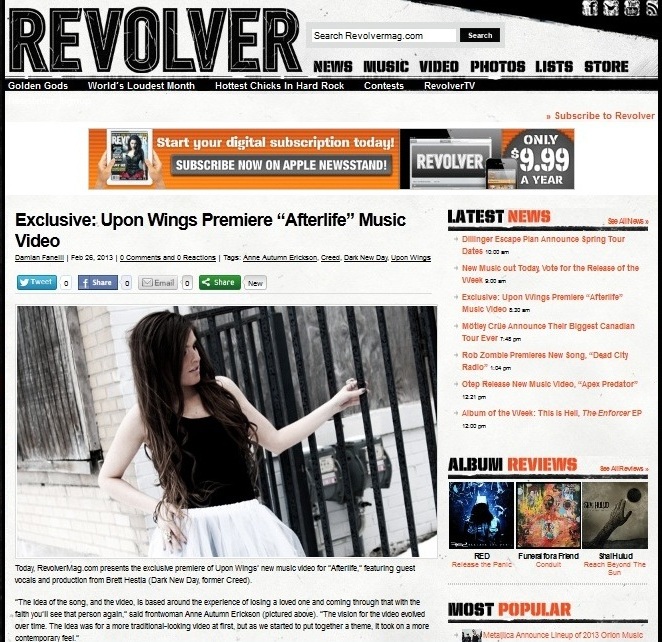 Big thanks to the folks at Revolver Magazine for hosting the exclusive premiere of our new music video for "Afterlife!" The song features guest vocals and production from Brett Hestla of Dark New Day and Creed fame, plus mastering by Grammy-nominated mixing engineer and Kid Rock recording engineer Glenn Brown. The EP features guitar work and production from Canadian musician Kevin Jardine and drummer Peter Tzaferis.
Check out the premiere here.
Upon Wings' "Afterlife" EP is due out this Tuesday, March 5, and is currently available for pre-order via iTunes.
We're about a week away from the release of our "Afterlife" EP, and we wanted to share another great review of the release with you. Todd 'ToddStar' Jolicoeur from 100% Rock Magazine recently reviewed the set and gave it 9 out of 10 stars! We're honored to get such a high rating and had to bring you the good news.
Check out an an excerpt from Todd's review below, and read the whole thing here:
Vocalist Anne Autumn Erickson doesn't push her voice or try to overpower the instruments that accompany her.  This track is what I imagine someone like Sarah Brightman would sound like if you threw some metal underneath her vocals…  The Dream (I'm Only Happy When I'm Sleeping)" closes this collection.  This song is unlike anything else on the disc.  I really like the diversity in the style of this track, as it shows the depth of Anne's voice and another dimension to her song writing and performance.
"Afterlife" is out on March 5 via Sword of the Spirit Records LLC. To pre-order the "Afterlife" EP, head to our page on iTunes.
Upon Wings' new EP, "Afterlife," arrives on March 5, and the reviews are rolling in. Planet Mosh is the latest to take a listen to the upcoming set, and writer Simon Bower gave the EP a grade of 9/10!
In the review, Bower called the EP an "exceptional release from an equally exceptional band." He wrapped up the review with the summary, "I must say that I have been very impressed by this EP, both in terms of its song writing quality and its extremely professional production and delivery." He goes on to call the collection "a real must for all fans of female-fronted metal." Thank you, Planet Mosh!
Here's an excerpt from the review, and read the full piece here:
For a start, the band definitely can lay claim to having a 'big' sound, classy thunderous guitar riffs, making a solid background from which the vocals of Anne Autumn Erickson shine through like the brightest star. For discerning fans of Female Fronted Metal I would compare Anne's vocal delivery to that of solo period Tarja mixed with mezzo-soprano highlights a la Simone, with a sprinkling of Charlotte Wessels thrown in for good measure. Musically, again I draw on comparisons with Tarja and Delain but undoubtedly Upon Wings have a fast growing personality and sound all of their own.
It's hard to believe, but the release of our EP is literally weeks away. To pre-order the "Afterlife" EP, head to Upon Wings' page on iTunes.
Rustyn Rose from the Metalholic website recently checked in with Upon Wings frontwoman Anne Autumn Erickson to chat about the band's upcoming EP, "Afterlife," and more. The two talked in depth about the recording  process behind "Afterlife," including recording at Groovemaster Studios in Chicago, a famed recording studio owned and operated by Johnny K, the latter who has worked with band such as Disturbed, 3 Doors Down, Sevendust and Art of Dying.
Rose also chatted with Anne Autumn about the genesis of Upon Wings and how the group came together. Check out the full interview here, and here's an excerpt from the feature:
Erickson's haunting and emotive mezzo-soprano voice channels the spirit of Liv Kristine (Leaves' Eyes), Tarja Turunen (ex-Nightwish) and Amy Lee (Evanescence). Her songwriting channels similar gothic and and ambient moods. Metalholic caught up with Erickson who was enjoying her spotlight on Sirius Octane's "Women Rock" week. The lead off title single from her new EP "Afterlife" is receiving solid play on Sirius and numerous other radio outlets.
Many thanks to Rose for taking the time to chat with Anne Autumn. "Afterlife" is out March 5 via Sword of the Spirit Records LLC, and it's currently available for pre-order here.