Share the post "Upon Wings' 'Eternal Way' in the News and On the Radio"
Big thanks to the following radio stations and publications for supporting Upon Wings' new single, "Eternal Way!" Check out the cool coverage below!
"So much heart and hard work went into creating 'Eternal Way,' and it feels incredible to get all of this support," Anne Autumn Erickson says. "Thank you to every radio station, publication and outlet that is supporting the single with coverage. Upon Wings is back, and 'Eternal Way' is the perfect reintroduction for the band."
Radio and Press:
Huge thanks to active and mainstream rock stations KGRR the Rock (Dubuque, Iowa), WIIL (Chicago), WOZZ The Rock 94.7 (Wisconsin), WKQZ (Saginaw, Michigan), WRIF (Detroit, Michigan), WBUZ 102.9 The Buzz (Nashville, Tennessee) and 96.7 KCMQ (Missouri) for spinning "Eternal Way," as well as WJCU (Cleveland, Ohio) and WYCE (Grand Rapids, Michigan)!
Also, major thanks to the mighty Knotfest for including "Eternal Way" on their "New Flesh" playlist on Spotify, Apple Music and more!
WILL Rock in Chicago: https://www.95wiilrock.com/420-hit-of-the-day-upon-wings-eternal-way/
WOZZ The Rock 94.7 in Wisconsin: https://rock947.com/2021/04/29/the-artist-spotlight-upon-wings/
WBUZ 102.9 The Buzz in Nashville: https://www.1029thebuzz.com/2021/04/17/5-songs-you-should-hear-right-now-35/
AntiMusic.com: https://www.antimusic.com/news/2021/April/06Singled_Out-_Upon_Wings_Eternal_Way.shtml
BraveWords: https://bravewords.com/news/upon-wings-launch-video-for-new-single-eternal-way-feat-primal-fear-vocalist-ralf-scheepers
BraveWords: https://bravewords.com/news/upon-wings-to-release-new-single-eternal-way-feat-primal-fear-vocalist-ralf-scheepers
Metal Express Radio: https://www.metalexpressradio.com/2021/04/10/anne-autumn-upon-wings-i-just-discovered-ralf-scheepers-this-year-i-had-never-heard-a-better-singer/
Heavy New York: https://www.youtube.com/watch?v=cYKZOAli_mo
Craank and That Metal Station: https://open.spotify.com/episode/1nTkYRncbLnHaiY0nwuS9Z?si=7YDdOMK0Tfy8RUAthCyqsw
HardRockCore.net: https://www.hardrockcore.net/post/upon-wings-1
HorrorNews.com: https://horrornews.net/165391/symphonic-metal-outfit-upon-wings-release-video-for-eternal-way-ft-ralf-scheepers/
Metal Insider (13 videos to check out this week): https://metalinsider.net/video/thirteen-music-videos-to-check-out-4-2-21
Metal Godz Radio: https://www.youtube.com/watch?v=JcbQA-G4zzo
Metal Protocol (Metal tracks of the week): https://themetalprotocol.com/metal-track-of-the-week-can-gojira-reign-again/
Sonic Perspectives: https://www.sonicperspectives.com/news/upon-wings-to-release-eternal-way-single-feat-primal-fears-ralf-scheepers/
KickAssForever.com: https://kickassforever.com/upon-wings-debut-dramatic-music-video-for-eternal-way-featuring-ralf-scheepers-of-primal-fear-uponwings-eternalway-ralfscheepers/
Loud Unity roundup: https://loud-unity.com/2021/04/08/listen-to-new-music-from-illumishade-thundermother-veile-upon-wings-dark-empathy-aetherea-aventh-kaelan-mikla-and-inherit-death/
TheRockPit.net: https://www.therockpit.net/2021/upon-wings-release-new-single-eternal-way-featuring-primal-fears-ralf-scheepers/
That Metal Interview with James: https://open.spotify.com/episode/1tFpzVYsFs7utHZZTrKaCE?si=lw7z9eUhQP2TAbYppmtrnw
The Rocker Diaries: https://www.youtube.com/watch?v=6eExmOvc_n4
Brutal Planet Magazine: https://brutalplanetmag.com/upon-wings-release-video-for-eternal-way-ft-ralf-scheepers/
"A solid offering from the band and a welcome one to any playlist." Lindsay Smith's Metalplanetmusic Review: https://metalplanetmusic.com/2021/05/single-review-upon-wings-eternal-way/
Hard, Heavy & Hair Show with Pariah Burke: https://www.pariahrocks.com/301-devil-rider-the-hard-heavy-hair-show-with-pariah-burke/
DarkSide.ru: https://www.darkside.ru/news/130469/
Metallized.it: http://www.metallized.it/notizia.php?id=74270
Metallicast Podcast: https://fansnotexperts.com/metallicast/2021/metallicast-68-metallica-merch-with-anne-erickson/
Dan and Dan at 519 Magazine – Windsor / London / Ontario Music & Entertainment: https://519magazine.com/anne-erickson-spreads-her-wings/
The Deacon and Co. Show: https://open.spotify.com/episode/0Qw7ms9M5OvmjqsRuROoVd
Let's Discuss With Lance Hall: https://www.youtube.com/watch?v=JTy4PLRiw4Q
Rock 'N' Load: https://rocknloadmag.com/news/upon-wings-release-powerful-new-single-and-music-video-for-eternal-way/
The Pit Magazine: https://thepitmagazine.com/upon-wings-feat-ralf-scheepers-and-ralf-scheepers-release-new-music/
More airplay: Belgian Metal Shredder, 97 Underground, AiiRadio.net, Midnight Madness Radio with Michael Tiffany, WPNT / Panther 95.7, The Don's Hit List on Fab Radio International and Madness to Creation, American Ladies Metal Brunch, Dark Metal Radio, 96.7 KCMQ After Dark and 96.7 KCMQ,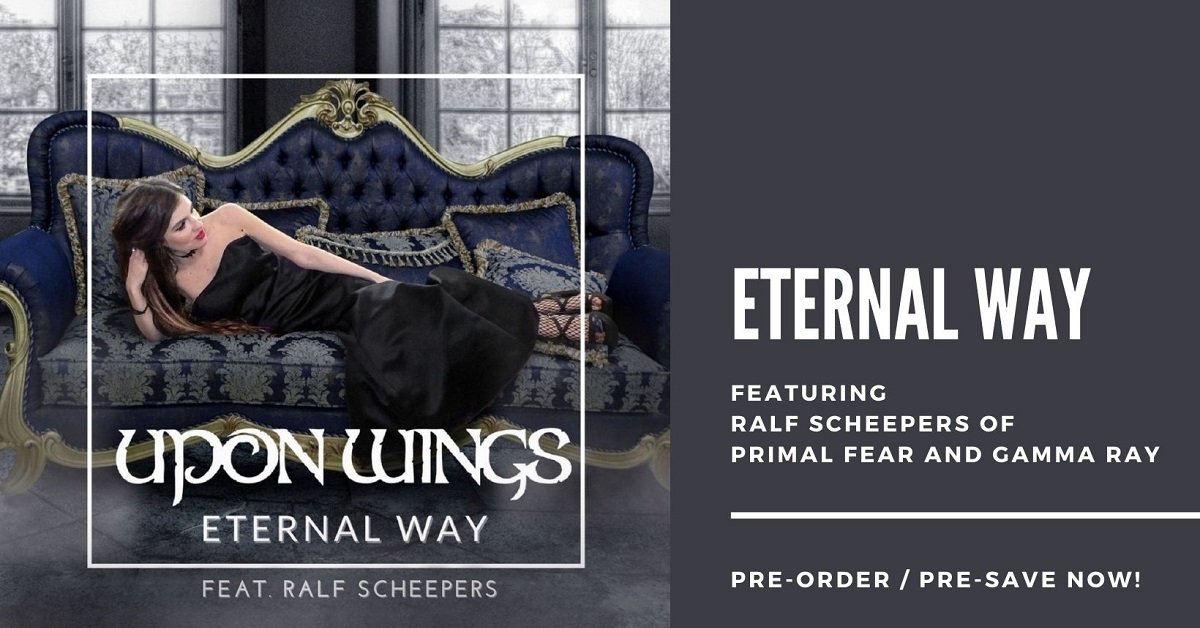 Comments